Indian folk dance with state
India is a country of South Asia but its unique in the world for its culture because this country have 29 states or every state has its own culture, and dance is the way to introduce and present culture in a dramatic way, and Indian people introduce and celebrate their culture through dance that is called Indian dance or Indian folk dance.
So, now let's take a walk for know about various Indian folk dance from various states. Let's start from north India.
Jammu and Kashmir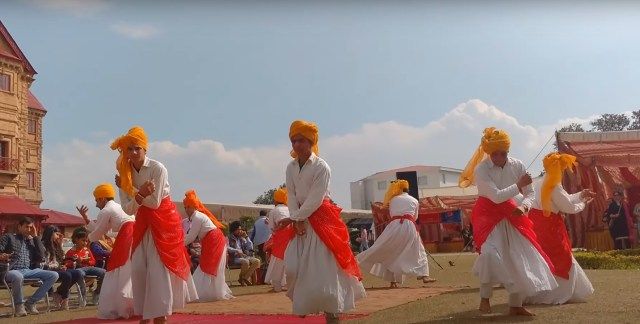 Jammu and Kashmir is the state of India. it is one of the most popular for its beauty, tradition, and its culture. This state has various art or dance forms which are usually performed and the kud dance form is one of the most famous dances of the mountain region from Jammu and Kashmir. It is a devotional kind of folk dance that is totally based on giving honors to Lok devatas. This is the way to say thanks to God through performance and the dancers mostly perform during the night. The best feature of this folk dance, Is all ages people and sex can participate in this folk dance form, to perform this folk dance people use many musical instruments like flute, drum, narshingha, or chhaina. The rhythm of music directs the movements of all participants.
---
Himachal Pradesh
Himachal Pradesh is another hills station and the state of India, it's famous for its culture and tradition and there is most popular folk art and dance form which is called Nati this the cultural and traditional dance form and this folk dance is performed for new year festival celebration, it is donated as the largest folk dance of country and its also mentioned in the books of genius world record. Nati dance is also performed in several states like Uttrakhand and Chandigarh.
There are seven types of variation in the nati folk dance. Some are most popular mahasuvi nati, sirmauri nati, kinnauri nati or lahauli nati. and Two aspects of this dance make them unique and different.
Female and male are both performed together.
The performance of this dance is performed in circles or in rows.
---
Punjab
Punjab is the state which is the birthplace of bhangra dance and it is also folk and traditional dance of India. The Bhangra dance form is originated in the Sialkot district of Punjab, and bhangra dance is mostly performed at the time of the coming spring harvest festival Baisakhi, this dance is mostly performed at the music of dhol but in the current time it is most popular worldwide and non-Indian people also want to learn this dance form.
History
The bhangra dance is started by the farmers of Punjab state around the 14th and 15th centuries for celebrating the harvest season. But as per current time bhangra is used for all major celebrations in Punjab such as festivals or weddings.
Costume
The costumes for bhangra dance are very bright, bold or colorful which is symbolize to joyful and happy nature of the occasion. And the bhangra costume color has different means for example. Yellow color is used to symbolize for sarson or mustard, and the green one is used to symbolize prosperity or red/saffron are used to symbolize for the auspicious occasion itself.
---
Now let's take a walk to south India
Tamil Nadu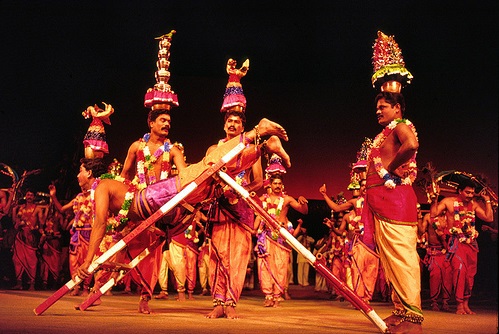 The karagattam is a folk dance of Tamilnadu. It is also known by another name karagam. It is an ancient dance form. The performance of karagram dance is to give honor and praise of rain to goddess mariamman. To perform this beautiful folk dance people use a water pot during the performance which is used to balance it on their heads perfectly. The best feature of this dance is any of the genders can perform this folk dance, but there is a change in the performance at the time of performance women use the water pots to balance on their heads or ether men perform this folk dance they use the rolling block of wood to balance on their shoulder but it's not easy to perform this dance with balancing equipment's it is too much difficult to dance.
The major genre of Indian classical dance is Bharatanatyam which is originated in the state of Tamil-Nadu it is also a traditional or folk dance. Bharatanatyam is a solo dance exclusively by women.
History
The Bharatanatyam's theoretical foundation is the ancient Sanskrit test by Bharat muni, Natya shastra. Its existence around 2nd century which if noted in ancient Tamil epics silappatikaram, the Bharatanatyam may be the oldest classical dance of India.
Movements
Bharatnatyam dance form is famous for its body movements or steps. This dance form mostly focuses on the fixed upper torso, legs bent and knees flexed out combined with spectacular foot moves. Or a sophisticated work is to move hands, eyes with gestures.
Costumes
The dressing style of Bharatnatyam dance is similar with Tamil married bride, during the performance women's wear a tailor-made Saree that is a consider as a cloth for women in India, or used many other things with Saree to makeup herself jewelry, nose pine, earrings, ghunghru many more this she used to dance.
---
Kerala
kathakali is a traditional, dramatic dance form and we can also call it a storytelling dance form in India. Kathakali dance form is originated in the state of Kerala, and Kerala is the home of several traditional dance forms. The kathakali is also the oldest theater dance form, it is totally based upon Hinduism ancients like Purana, Ramayana, Mahabharata. This form is most famous for its makeup and consumes what is used at the time of performance.
History
The roots of Kathakali are unclear but it's started around the 16th-17th century back or its roots are developed in the temples and it comes from Krishnaattam is also a dance form that are totally dedicated to Lord Krishna survival activities which is created around 1585-1658 AD by Mr. zamorian who is also from Calicut the city of Kerala. Once the king of Kottarakkara who attracted by Krishnanattam. And He requested Zamorin for the troupe of performers. Due to the political rivalry, Zamorin did not allow this. So that's why Kottarakkara Thampuran created another art form called ramanattam. The King of the erstwhile Vettathu kingdom introduced to Ramanattam and renamed it as Kathakali, or king of Kottayam took measures to popularize this art form.
Choreography
Choreography of a Kathakali dance is not an easy thing it is too much difficult. To choreograph a performance There are many points that should be focused on. The main point is mudra because the Kathakali dance form is totally based upon mudras. There are 24 types of mudras that are used to choreographed a song or theme. In a simple way know the mudras we can say it steps or movement of hands.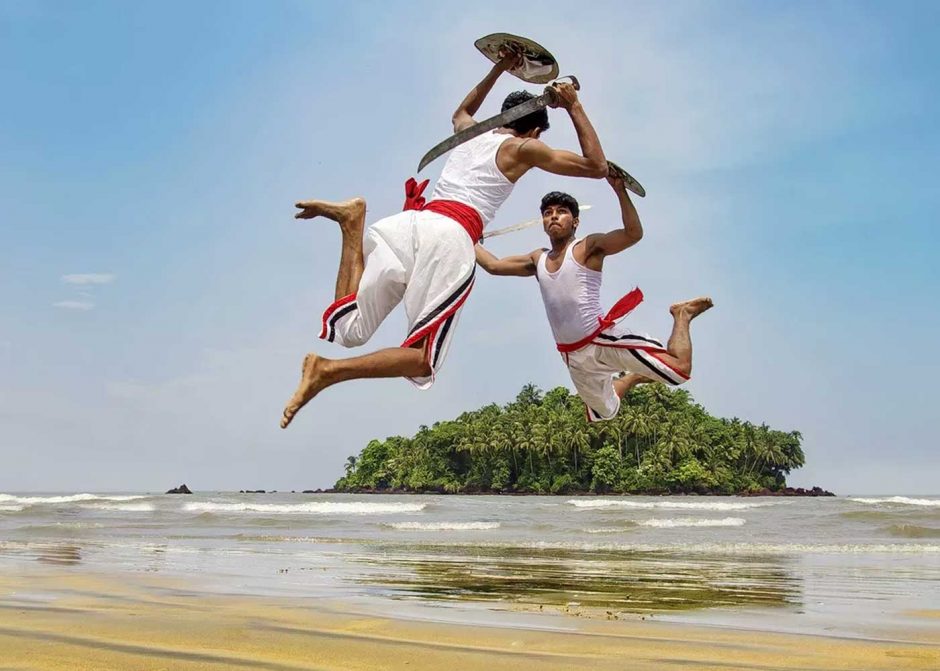 Kalaripayattu is a fighting system or a art which is originated as a dance style in the north Malabar, Kerala. The kalaripayattu is a combination of 2 words kalari and payattu which describes battlefield, threshing floor or fight in Malayalam . And kalaripayattu is the oldest art and dance form of martial art in India.